Back to main Blog

Julie Ross, President, Advanced Clinical
Multiple studies have proven the business benefits of gender diversity. A Gallup report found gender diverse companies had higher revenues and profits; research from MIT shows that teams with more women have a greater collective intelligence; and a study conducted by researchers at Columbia Law School found companies with female CEOs and at least one more woman in the top five executive positions, exhibit better business performance and have higher valuations than any other combination they studied.
The healthcare industry recognizes this value, and has been a leader among industries in efforts to achieve gender parity. McKinsey's 2018 Women in the Workplace study found that roughly the same number of women receive promotions as men in healthcare fields; that women report receiving more of what they requested in compensation negotiations; and that they are happier about their careers compared with men in the same field.
Healthcare also outperforms almost every other sector in promoting women from entry level roles to the first level of management, which is one of the most important steps to leadership for any professional.
However, reaching parity at the highest levels is still a challenge
It is promising data, and at Advanced Clinical we are proud to report that our numbers are even better, with strong female leadership within our C-suite and down throughout the organization. But it's still not enough. Even though healthcare is making strides toward gender diversity, we still haven't reached parity at highest levels, and that's stifling our ability to innovate and drive value for our stakeholders.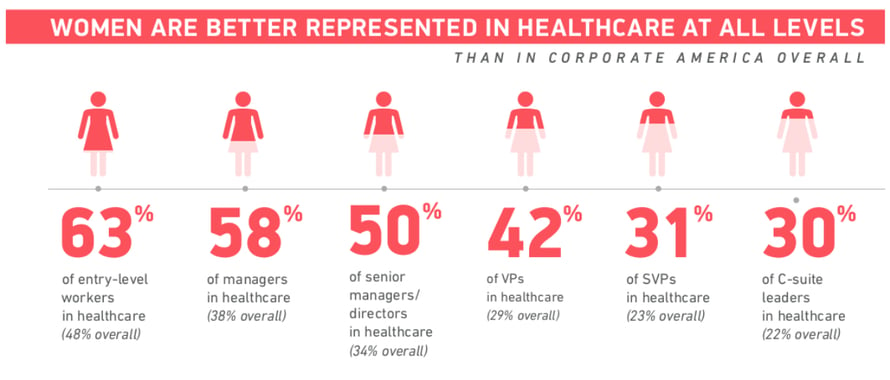 Source: Women in the Workplace 2019, McKinsey and Co and Leanin.org
A change management issue
When women do secure roles in the C-suite, it's often the result of strong individual leaders who recognize their potential and champion them on their career trajectory. But unless such support becomes engrained in the corporate culture, women are often excluded from roles in which they would excel. To achieve natural gender parity, we have to create companies where leaders of all stripes hire, mentor and promote high-performing women, because they recognize the value they bring to the business and the bottom line.
One organization moving the needle on this issue is the Healthcare Businesswomen's Association (HBA), is a global nonprofit committed to achieving gender parity in healthcare industry. Through the HBA Gender Parity Collaborative, we convene industry senior executives to work collectively to address the systemic changes needed to accelerate the pace of gender parity in the workplace.
As a current board member, I'm passionate about the work we are doing at HBA to help women build broader networks to generate the skills and confidence they need to push for those leadership roles. At the same time, we are striving to bring more men into these conversations, to help them understand the value the female perspective, brings to their leadership mindset as well as the obstacles females face in the workplace and actions that create gender parity reasonably quickly. This is a critical component of HBA, as it will help organizations maximize their business results.
How can you get involved?
HBA has a series of events throughout the year. These events offer a unique opportunity for male and female industry leaders to test their own assumptions about gender parity, and to discover new strategies they can use to promote a more equitable level of diversity in their own organizations.

We look forward to seeing you there.