Back to main Blog

Chad Papineau, Senior Director of Business Development at Advanced Clinical
Part 2 of the blog series: Diversity in Clinical Research.

Regulators have made it clear that they expect to see diversity and inclusion (D&I) in clinical trial populations. Today, many sponsors are struggling to meet those goals. The US Food and Drug Administration's 2020 Drug Trials Snapshot Report shows that among clinical trials for new molecular entities and therapeutic biologics approved in 2020, just 11 percent of participants were Hispanic, eight percent were African American, and six percent were Asian American.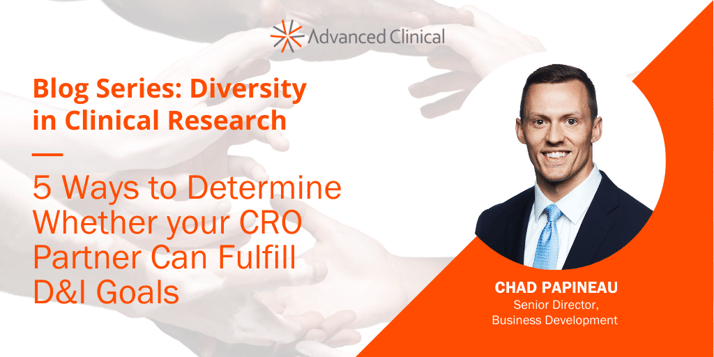 As an industry we must do better, and that requires a systemic change in how we recruit and engage diverse patient populations.
Everyone plays a role
Achieving D&I in clinical trials isn't a single role and should not be deprioritized. Most everyone has great intentions of integrating D&I into a clinical trial. For sponsors to do this successfully, it must be integrated into everyone's job and prioritized by the entire stakeholder environment. Many sponsors have already established strong internal D&I practices. In order to achieve diversity in clinical research they need their vendors to be equally committed. An important part of this process is choosing a CRO who can show a demonstrated commitment to D&I and proven experience in meeting the specific objectives of their sponsors.
For CRO partners, the business development team should be able to describe the company's approach to achieving diversity in trial populations, addressing every key touchpoint in that journey.
These touchpoints should include:


The internal D&I strategy. Sponsors should consider a CRO that has a D&I mission, and a team or working group dedicated to working with every department in the organization to help them set and meet internal D&I goals. Diversity can be achieved more quickly when leadership supports the goals and are reinforced by the teams performing the work.


Adaptive design. Protocol design has a significant influence on eligibility criteria and recruiting results. Using adaptive trial designs can increase diversity by enabling progressive modifications in eligibility while continuing to meet safety and quality data requirements.

CROs should be able to offer sponsors feedback on how they can leverage adaptive designs, and how protocols could be modified to create a more diverse and inclusive recruiting environment. This may include leveraging decentralized clinical trial elements, such as telehealth visits, electronic informed consent forms, e-diaries, and home health visits to reduce time and travel burdens and reach a larger population of patients.

See our most recent blog authored by my colleague Shaniya Khan Wojtas, PhD, who shares her perspective on why your medical writing team is integral to helping to design a protocol that supports D&I.


Diversity in outreach. Raising awareness about clinical research in communities of color is the first step to creating a diverse recruiting funnel. Sponsors should look for CROs who understand the right channels, messaging, images and outreach to attract the desired patient populations. Ideally, the CRO will be involved in proactive outreach strategies with patient advocacy groups and healthcare leaders in specific communities so that when sponsors are ready to recruit, those relationships are already in place.


Diversity criteria for site selection. It is important that sites are qualified for their ability to meet D&I goals as one element of the feasibility and site selection process. A successful site should be able to demonstrate diversity in their outreach population and past success in diverse recruiting for other trials. They should also be able to provide examples of advertising and outreach that specifically target communities of color, and strategies they use to monitor and manage diversity goals in the recruiting pipeline.

Investigators and recruiters are the ultimate "gatekeepers" of who is invited to participate in a trial. Choosing sites that prove they are committed to diversity, and who equally understand how to engage with communities of color will be key to meeting these goals.


Diversity in training. The commitment to diversity should be reinforced through site training materials. This ensures everyone on the site staff understands the importance of meeting D&I goals as well as has the skills to attract diverse patient populations that will make all patients feel engaged and included in the trial experience.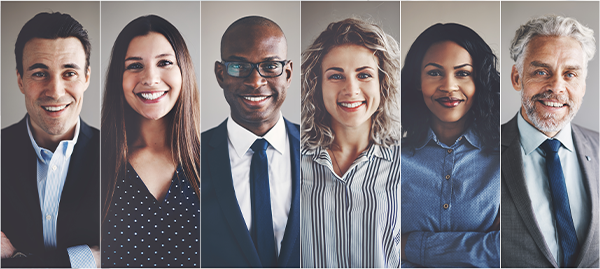 Setting diversity goals is no longer optional. It's a vital step to demonstrating safety and efficacy for new investigational therapies. As FDA notes in its diversity guidance document, "Broadening eligibility criteria and adopting more-inclusive enrollment practices" improves the quality of studies by ensuring the patient population in a trial is representative of the people who will use the drug if it is approved.
There are many barriers to achieving diversity in clinical studies, but when sponsors partner with CROs who are committed to D&I, and have strategies in place to make it happen, they will be more likely to achieve those goals.
>>For a broader industry discussion on how to improve health equity through diversified clinical trials by ensuring all stakeholders involved in setting goals, be sure to register here for a live, exclusive roundtable event hosted by PharmaVOICE and Advanced Clinical (to be recorded for those who miss the live event).