Back to main Blog

Shaniya Khan Wojtas, Ph.D., Manager of Medical Writing
Part 1 of the blog series: Diversity in Clinical Research.

The COVID-19 pandemic's impact on clinical research will have far-reaching effects on clinical trial planning for decades to come. And that's a good thing.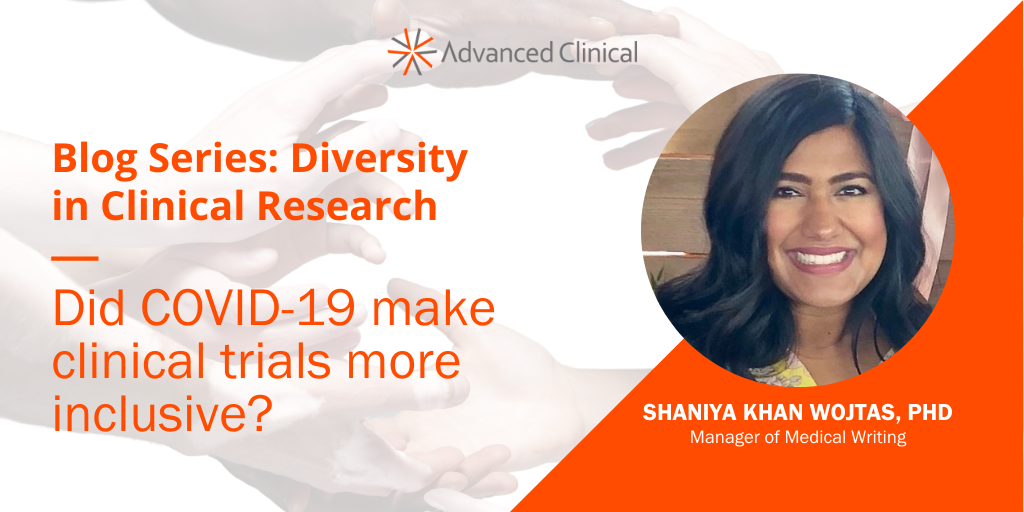 When healthcare research sites were closed and travel bans were enacted, it forced many sponsors to embrace a hybrid or decentralized clinical trial (DCT) model to keep their research moving forward. This transition may have been implemented as a short-term solution to adapt to changes in the research environment, but the unexpected benefits are changing the way sponsors plan for the future.
DCTs were able to address many of the recruitment, retention and patient engagement challenges that have long impacted clinical research timelines. They also challenged sponsors to question long-held assumptions about how trials need to be executed.
This doesn't mean every trial in the future will be decentralized. But the growth in DCTs have introduced new expectations for agility, collaboration, and inclusivity that will likely make improvements for DCT elements in most future research.


What's changed
At Advanced Clinical, we helped several clients transition their trials to hybrid or DCTs during the pandemic. Through that experience we learned how the use of DCT elements caused a shift in how sponsors think about inclusion and exclusion criteria, protocol design, and patient recruitment strategies. That led to five key changes in the trial planning process and the collaborative nature of sponsor/CRO partnerships. We believe these experiences will lead to more engaging trial designs that make clinical research an option for a broader and more diverse range of patient populations.
Here's what we experienced.
Sponsors want flexibility built into the trial design. Prior to the pandemic, sponsors generally came to their CROs with clearly defined protocols, outcome measures, and inclusion/exclusion criteria defined. The pandemic brought new uncertainty to this process. The experience of adapting to COVID-19 has made them see the benefits of working with CROs to bring more flexibility into protocol designs that will allow them to adopt DCT components as a more efficient way to manage clinical trials.
Sponsors are willing to balance data demands with patient needs. Pre-COVID, some clinical trial designs were focused on collecting as many data points as possible. The pandemic taught us that while data collection is essential, so is the patient experience. This shift is causing sponsors to rethink their trial requirements to reduce patient burden, and to rely on medical writers and other CRO team members to help them revise endpoint collection and protocol designs to minimize the number of site visits and to make the trial less burdensome for patients.
Sponsors see DCTs as a way to enhance diversity in trial populations. When sponsors were forced to embrace telehealth, electronic diaries, and other virtual trial elements, it had an effect of reducing the travel burdens that disproportionately alienate minority and low income populations from trial participation. Sponsors may have made certain decisions to mitigate risks in the pandemic, but it highlighted how eliminating this travel burden opens trial participation to a much broader and more diverse population. This has made sponsors re-examine their protocols and trial design through the lens of diversity and to use DCT elements to create a more inclusive trial experience. That includes using telehealth, mobile devices, home health nurses, and a patient's primary physician for some visits; sending home-test kits and wearable devices for remote data collection; and eliminating excessive blood draws and follow-up tests that are ancillary to the trial goals.
Sponsors will leverage consumers' new knowledge about clinical research to enhance future recruiting strategies. Throughout the pandemic, the media has covered every detail of the COVID-19 vaccine trials – and consumers were captivated. This unintended education made them more aware of clinical research as a care option, and more interested in participation. Sponsors now have an opportunity to use this new knowledge by embracing direct-to-patient recruiting efforts and using social media to engage patients and promote opportunities to participate.
Sponsors are using adaptive dosing to attract more participants. During the pandemic, many sponsors developing COVID-19 treatments conducted multi-arm trials where only one arm was the placebo, while others had varying doses of the active ingredient. This allowed them to rapidly compare the efficacy of different dosing options, while increasing the chances that participants would receive the active treatment. That made trial participation more appealing and helped to accelerate results.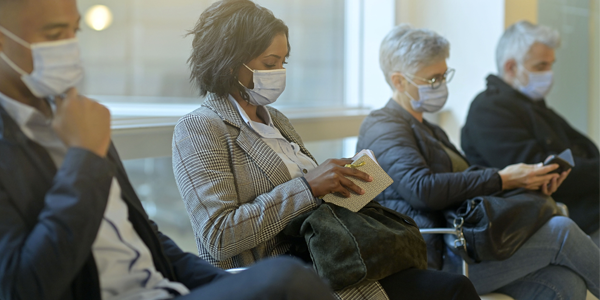 The pandemic has presented unprecedented challenges but has also taught us how resilient we can be. When the status quo of research was challenged, the industry adapted, and all participants and stakeholders learned valuable lessons along the way. We hope those lessons will continue to transform the clinical trial environment, and lead to more efficient, diverse, and inclusive clinical trials in the years to come.