Are you using these 3 best practices for building a win-win clinical outsourcing partnership?
Last month at the 8th Annual SCOPE Summit in Miami, Julie Ross, President of Advanced Clinical co-presented alongside Mark Mann, Head of Clinical Outsourcing and Contracts of Upsher-Smith Laboratories, outlining how to build a win-win partnership.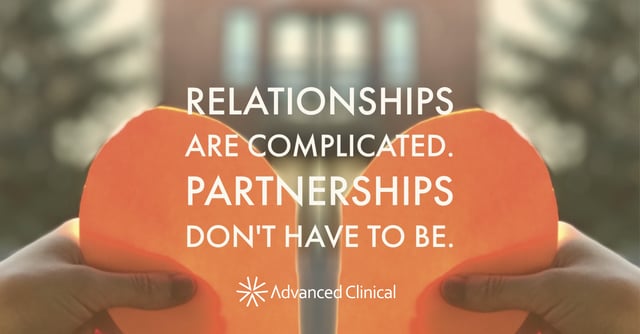 The takeaway was that the ideal methodology for building a win-win partnership between a Sponsor and CRO starts with trust and vulnerability.
Establishing trust and vulnerability between organizations requires time and effort, so here are best practices to keep in mind when building partnerships that can maximize efficiency and ensure positive outcomes.
Create a comfortable environment upfront.
Start by making the team comfortable. Exchange stories about challenges you've faced in the past and what steps you took to work through them. Sharing these experiences gives team members an opportunity to be authentic and relatable.
Demonstrate vulnerability.
Leaders from both organizations should help demonstrate that it's respectable to share weaknesses as opposed to ignoring them. Make sure teams understand that exposing weakness is not a negative action because it can lead to filling gaps and improving efficiency.
Don't assume perfection.
Make it clear that imperfection is okay. Unforeseen challenges will occur. The plan will change. Being adaptable is key to success, and requires trust among team members to act immediately.
For a win-win partnership, each organization not only needs to track performance and deliverables as usual, they need to create an open working environment - one that is rooted in trust and vulnerability because true success is measured beyond contract deliverables.
What other practices have you used to establish trust with partners? Leave a comment below and share your thoughts!