Facing Study Complexity? New Report Recommends Partners
Facing Study Complexity? New Report Recommends Partners
Adaptive design. Basket studies. Multifactorial. Just statistically complex. Are these more complicated approaches affecting your clinical development plans?
Yes, say nearly 70% of respondents in a new clinical trial innovation report by Advanced Clinical. Complexity is rising.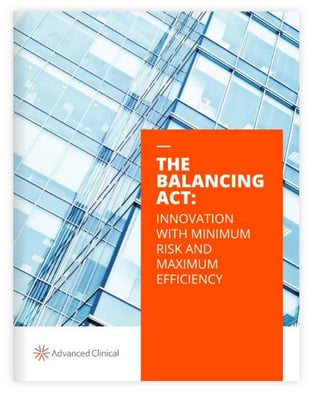 And to safely and efficiently address these new needs, research professionals are taking 2 paths:
Seeking input from independent consultants and subject matter experts when developing plans
Using a CRO or outsourcing provider to develop plans
Consultants offer the broad experience of working with multiple organizations.
They've seen best practices in action … and what mistakes to avoid.
Interested in the full report and more tips? Download The Balancing Act: Innovation with Minimum Risk and Maximum Efficiency today.
Tags: Innovation
Written by
Lizzie Evans
Market Development Manager at Advanced Clinical.