Back to main Blog

Domantas Gurevicius
COVID-19 may have dramatically disrupted the clinical research environment – but it hasn't shut us down. Many ongoing studies are continuing to treat patients virtually, while new trials are beginning to ramp-up. Our recent U.S. survey of how investigators are responding to COVID-19 found that 43% of operating sites plan to enroll new subjects during the pandemic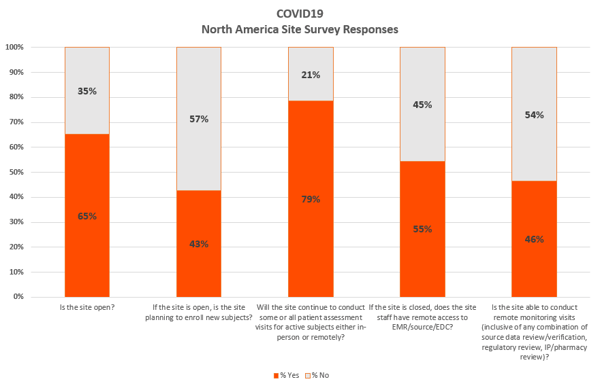 While the data in our survey is U.S. oriented, it is safe to say that anecdotally in both Europe and Asia-Pac, for instance, we see a very similar pattern emerging from sites in response to this current pandemic. However, the way various regions choose to operate is largely dependent on individual country quarantine mandates.


Although some clinical sites are currently closed, sponsors can leverage this time to begin study start-up activities with remote site staff in order to prepare for study execution when the pandemic restrictions are lifted. The progress made during this timeframe will ensure that sites are prepared for subject recruitment activities, instead of being overwhelmed with requests to launch new trials as fast as possible. If sponsors and sites do not take advantage of this opportunity, sites will be forced to decide which trials they are willing to support as high-demand patient populations will be inundated with requests to participate in trials.


The deluge of requests could delay patient recruitment, stretch site staff, and potentially add months to the ramp-up of new trials. However, sponsors that begin study start-up activities during the pandemic may have a competitive advantage. They can gain an opportunity to connect with high demand patient populations prior to their competitors, and leverage the full focus of furloughed site staff to engage them.


Even if sponsors delay the start of their trials until the restrictions are eased, they will be ready to treat their first patient when sites resume normal operations.


5 tips for recruiting patients
The question now is how do trial teams recruit patients in the midst of a pandemic? Our team at Advanced Clinical offers this advice:


Recruit from home. If investigators and coordinators can access their sites' electronic medical records and patient databases remotely while maintaining HIPAA, GDPR, and privacy compliance, they can spend their quarantine identifying patients for new trials, starting communication efforts, and educating patients, caregivers, and advocates. This is a great way to keep site staff working and to garner their full attention to a trial.


Focus on online communities. With most non-emergency medical visits on hold, physicians have fewer opportunities to talk to their patients about trial participation. Patients are also less likely to visit clinics and other care environments where they might encounter written materials promoting these opportunities. However, patients are likely spending considerably more time online. This gives recruiters new opportunities to engage with them via advertising, social media posts, virtual patient advocacy groups, and disease-specific online discussions. Focusing recruiting strategies on virtual communities will be critical to capturing their attention during the lockdown.


Talk about safety and experience. Shape every message around your approach to patient safety, and where relevant point out how these features may enhance their trial experience. Will patients be able to participate via telemedicine, and take advantage of e-diaries and online consent forms? Will home health nurses visit patients in their homes? Will investigational drugs be delivered directly to the patients in the comfort of their homes? All of these safety-driven choices can add value for patients and make participation a little easier.


Continue to provide participant reimbursement options. We've heard from several sites that the reimbursements patients receive for participating in trials has been helpful for those who've lost their jobs in light of the pandemic. They see this as a dual opportunity to gain access to treatment and without incurring added costs.


Do as much virtually as possible. Avoid early site recruiting visits by using phone calls, videoconferencing, electronic consent forms, and tests at local labs for all initial recruiting interactions. This reduces patients' exposure to risk, and enables sites that aren't open to continue to meet the needs of their sponsors and potential subjects.
COVID-19 has already added unexpected delays to ongoing clinical research studies. This could eventually cost sponsors millions of dollars and inhibit their ability to bring lifesaving treatments to the market. Using this time to ramp-up study startup activities can minimize the lingering delays that will occur when research begins again. Sponsors have an opportunity to get ahead on their upcoming studies while keeping site staff engaged until the economy reopens.